This article's name is non-canon, and will be replaced with the canon name when one is revealed.
Unknown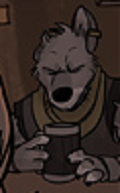 Gender:
Male
Status:
Alive
Appearances:
The Land's End,

Beyond the Western Deep (Cameo)
Personality
The Canid is gruff and grumpy. He prefers to be left alone and always sits in the back.[1]
Relationships
The Canid comes to the Land's End every day before opening. Once the tavern was closed due to heavy snowfall, and the Canid came anyway. Alder let him in for a warm drink.[2]
History
Pre-series
The winter before, the Canid visited the Land's End Tavern when the snow had piled up to the Canid's chest. Alder let him in for a hot drink.[3]
The Land's End
The Canid is waiting outside the Land's End well before it opens. After the doors are unlocked, the Canid goes to his regular seat at the back of the tavern.[4]
Description
He is missing most of his right ear.[5]
Gallery
Appearances
References